Zeltiq Fat Reduction
What is Zeltiq?
The Zeltiq procedure is the latest non-invasive technology designed to reduce unwanted fat. This device uses a patented procedure called CryolipolysisTM to use special cooling to specifically target fat cells without harming or disturbing surrounding skin or soft tissue structures.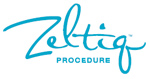 Where can Zeltiq be used?
Zeltiq can be used virtually anywhere on the body. It was developed to target unwanted fat pockets that are notoriously difficult to remove through diet and exercise alone. Some of these areas include the "love handles" at the waist, the mid-abdomen, and for bra fat on the upper back.
Who is a good candidate for Zeltiq?
Ideal candidates for Zeltiq are those who are generally physically fit, who are not overweight, and who have troublesome fatty areas that they have been unable to improve through diet and exercise regimens alone.
How does the procedure work?
The Zeltiq device uses cold to injure fat cells without damaging surrounding skin or tissue structures. The treated area is selectively cooled to the necessary temperatures and treated fat cells die and will be resorbed over 2-3 months. The final result is a smoothing of the body contour and removal of the unwanted fat pocket.
How long does the procedure take?
The Zeltiq procedure takes about an hour per treatment area. Patients are generally able to resume regular activities immediately after the treatment. A single treatment may be all that is needed. The procedure can be repeated after 2-6 months if necessary for larger or more stubborn fat areas. For properly selected patients, the Zeltiq procedure results in a noticeable, natural-looking fat reduction in targeted areas without the need for needles, anesthesia, incisions, or downtime.
How do results with Zeltiq compare with invasive procedures like liposuction?
Results with the non-invasive Zeltiq procedure will not be as dramatic or as fast as those with an invasive procedure like liposuction. However, with the non-invasive Zeltiq there is little to no pain, very limited risk and almost no recovery time - significant advantages over traditional liposuction.